Where your meetings live, and thrive!
On your meetplace, there are pages or tabs on the left side that include all the features for you to prepare for and run a productive meeting.
Meetplace Dashboard
From the Meetplace page, you get an overview of what's happening across your meetplace, for example, upcoming meetings, due actions, and pending decisions.
Select your project to have a quick view of its insights
All scheduled and finished meetings
All active, completed, and overdue actions
All in vote, agreed, and disagreed decisions
You'll also find all your weekly updates in details
All current running and upcoming meetings with the ability to directly join meetings
All your actions due or overdue this week where you can directly mark them as completed
All meeting minutes pending approval where you can directly agree or disagree on them
Note. Meetplace dashboard is available on the pro and enterprise plans.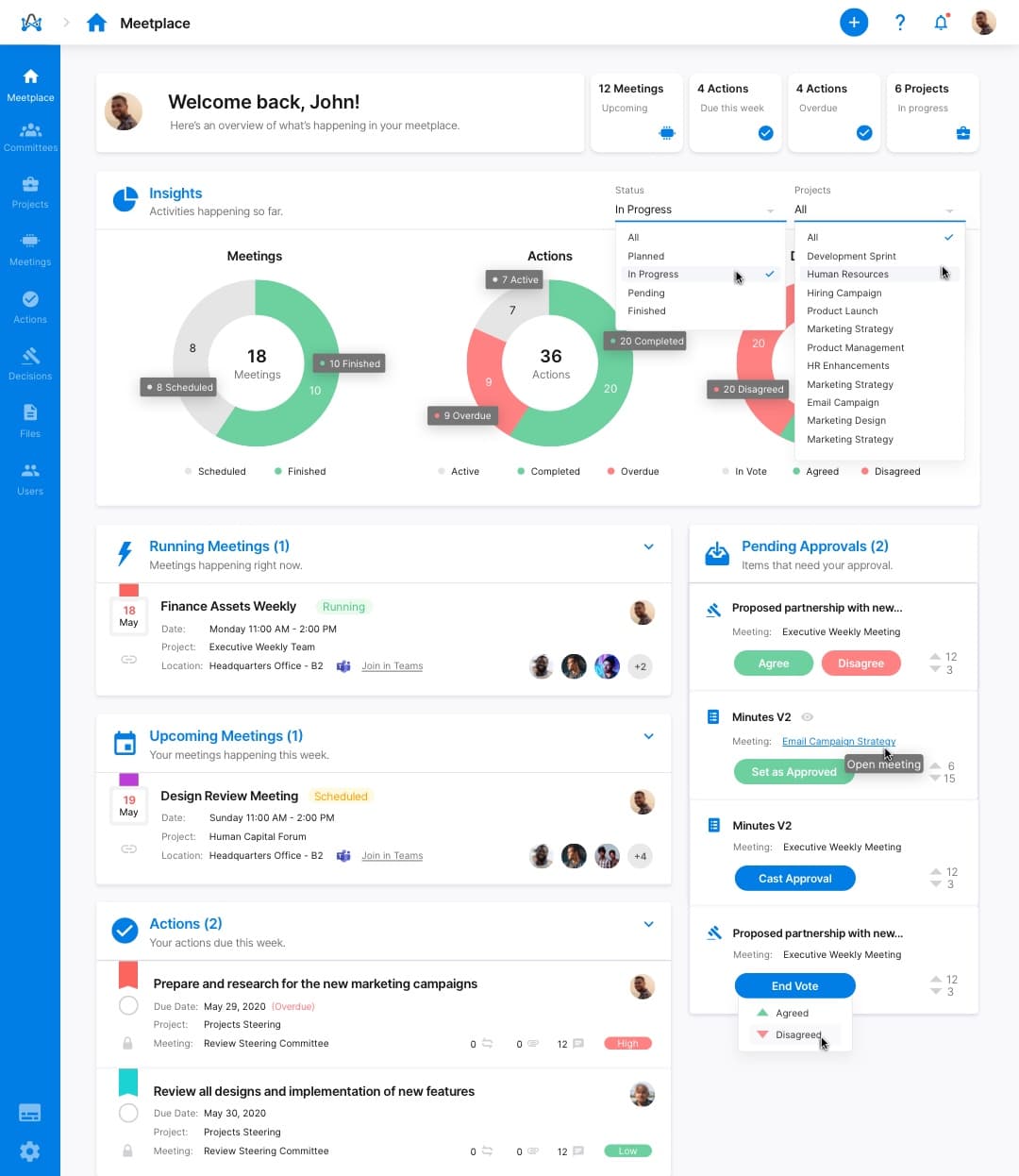 Projects
Projects are where meetings are grouped together. Every project has periodic meetings where managers, members, and stakeholders get together to discuss the project's goals, assigned actions, and progress.
From the projects page, view all projects related to each user to manage projects, add or remove members from projects, and search and filter projects.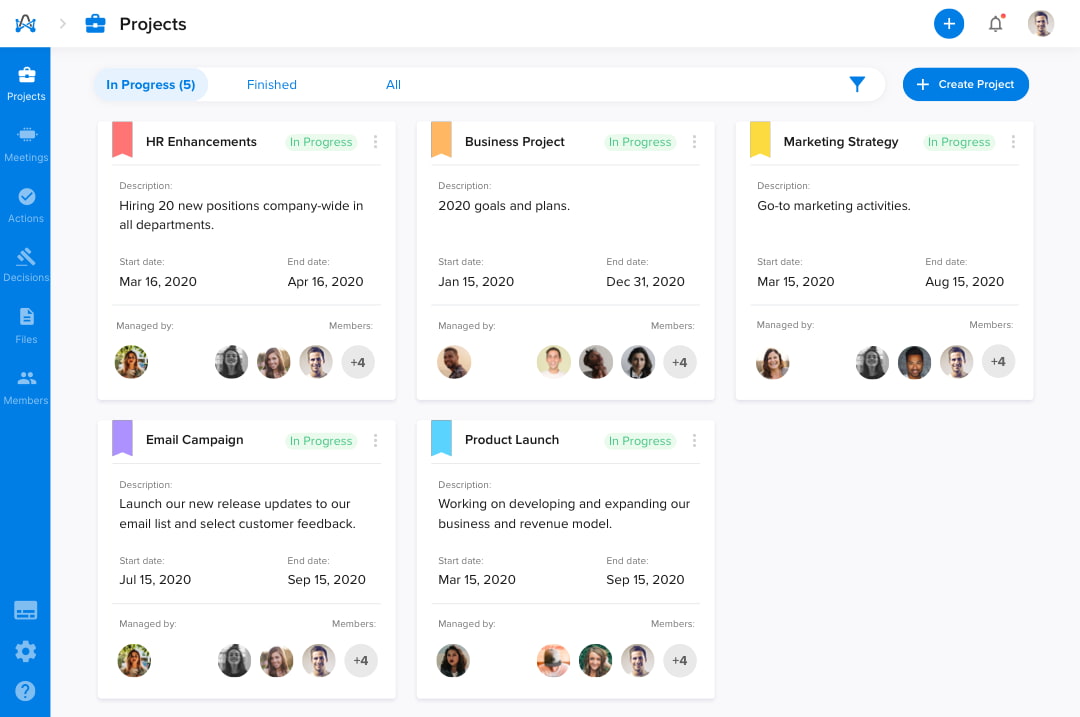 Project Dashboard
Click on a project card to view this specific project's meetings, actions, notes, decisions, and files.
Every project has a dedicated dashboard and timeline so you can see it all together, along with visual insights for all your scheduled or finished meetings, actions, and decisions taken. This helps you keep track of your project's overall performance and progress.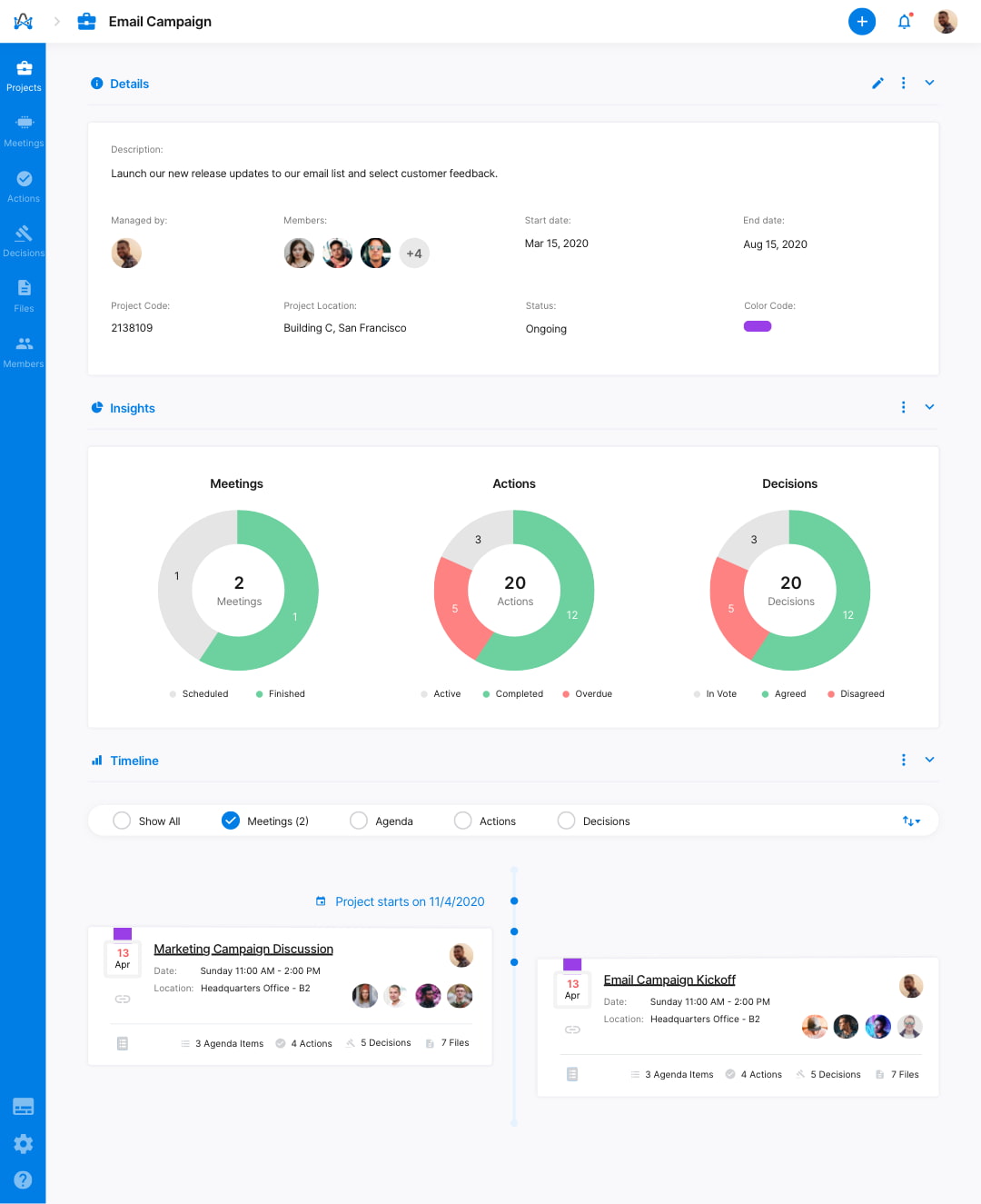 Meetings
Get a bird's eye view of all the meetings happening across all teams and quickly schedule, view, or edit any of their details.
View meetings by day, week, month, or altogether
Schedule or create quick meetings
Quickly view and edit objective, agenda, and attendees
Send invitations and agenda beforehand
Cancel meetings without losing data
Search and filter meetings
View, share, and download minutes of the meeting (MOM)
View running meetings in real-time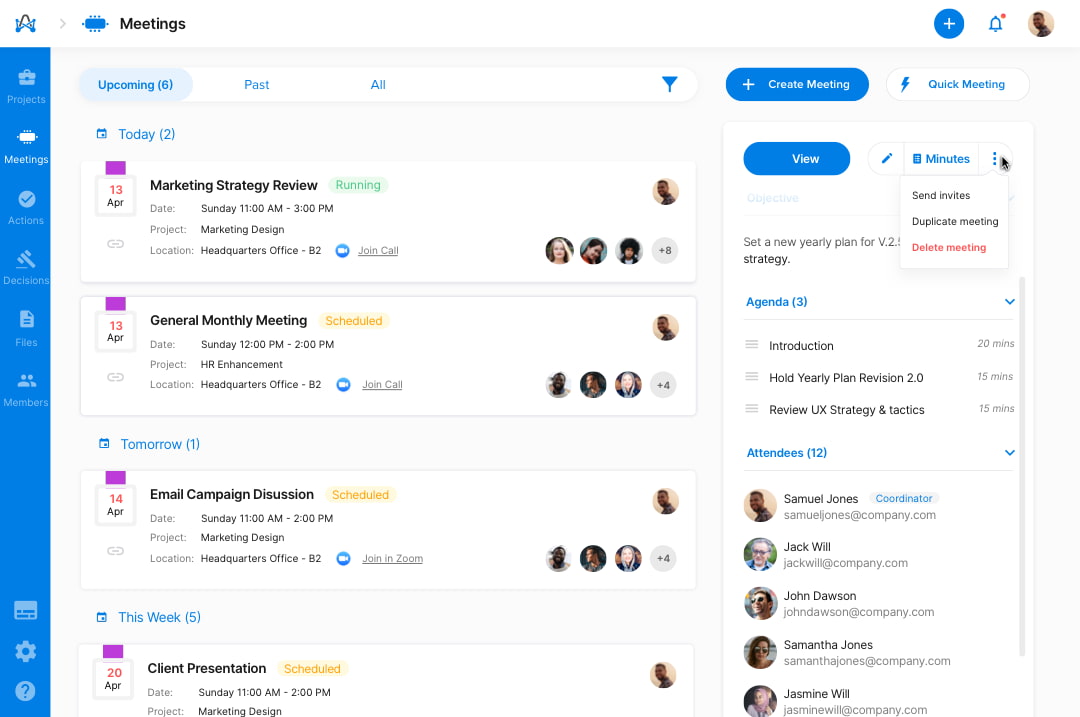 Meeting Room
Clicking on a meeting takes you to the meeting room. adam.ai's core is the meeting room, where every meeting lives, and its information is stored in seven meeting tiles.
Whether it be meeting agenda to keep you focused, notes you want to privately jot down, files you want to be uploaded that are relevant to that meeting, meeting's attendance with a visual seating arrangement, decisions collectively agreed upon, actions to stay clear of deadlines, or audio recordings for video conferencing tools, your meeting room has got it all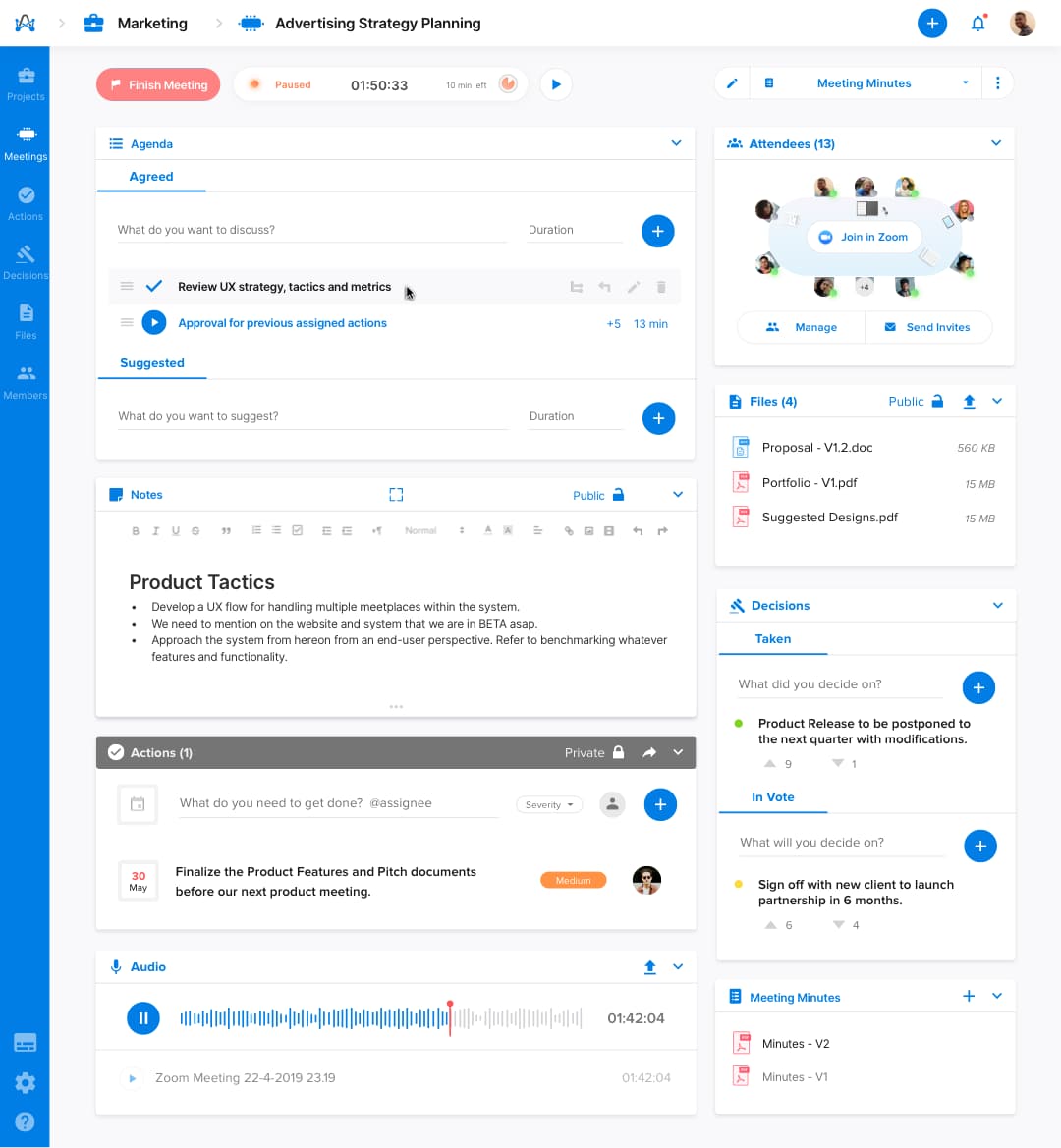 Follow-ups
From the "Follow-ups" page, access Actions, Decisions, Issues, and Risks. These subpages help you follow up on actionable items and deadlines with your team members.
View all assigned action items, which can quickly be exported as a CSV file. Users can view their active and completed actions, as well as the following:

Users can create a decision or view their agreed and disagreed decisions, as well as the following:
Edit decision status.
Add tags to a decision for ease of filtration later.
Add related notes and files.
Vote on a decision.
Add supporting or relevant files.
Comment on decisions as threads.
Search and filter decisions.
Issues

Users can create an issue or view open and resolved issues, as well as the following:

Reopen a resolved issue.
Edit the details of an issue.
Add tags to an issue for ease of filtration later.
Add a resolution to an issue.
Add watchers.
Add supporting or relevant files.
Discuss and comment on issues.

Risks
Users can create a risk or view open and closed risks, as well as the following:
Reopen a closed risk.

Edit the details of a risk.
Add tags to a risk for ease of filtration later.
Add a mitigation to a risk.
Add watchers.
Add supporting or relevant files.
Discuss and comment on risks.
Files
Files page enables users to view and manage all files they uploaded to the meetplace. You can upload files directly from the Upload File button. The uploaded files take from your storage, which is 1GB per member in a meetplace.
Users can:
Upload files from the computer.
Import files from Google Drive and Dropbox.
View and download files.
Upload and delete files.
Search and filter files.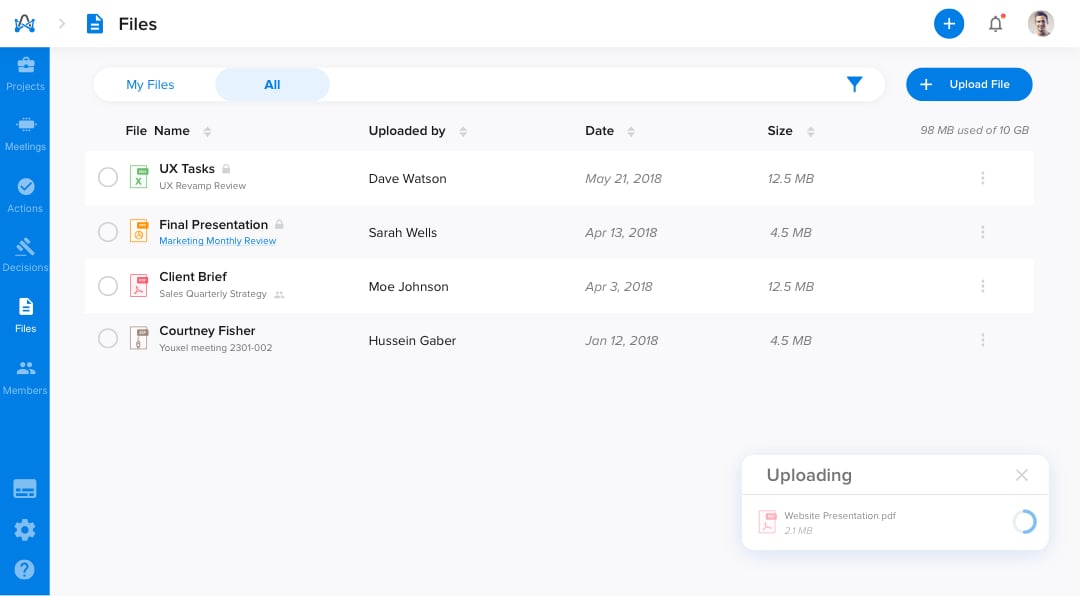 Users
From the users' page, you can view all members and contacts of the meetplace. You can also select some members to have a quick meeting with.