The purpose of all meetings!
An effective meeting is one that ends up with clear and concise action items for attendees. Here's how to create and keep track of all your meeting's actions on adam.ai.
How to create new actions?
There are many ways where you can create new actions:
1. Create action during meeting
You can add actions during a meeting from the actions tile in your meeting room. Assign actions on meeting attendees and add action description, due date, and severity.
You can add action either in public or private mode.

2. Create action from "Follow-ups" page
You can add actions outside the meeting from the "Follow-ups" page, "Actions" subpage, by clicking on the "Create Action" button.
Only public actions taken in meetings will appear in the project's dashboard, either in the project's insights or timeline.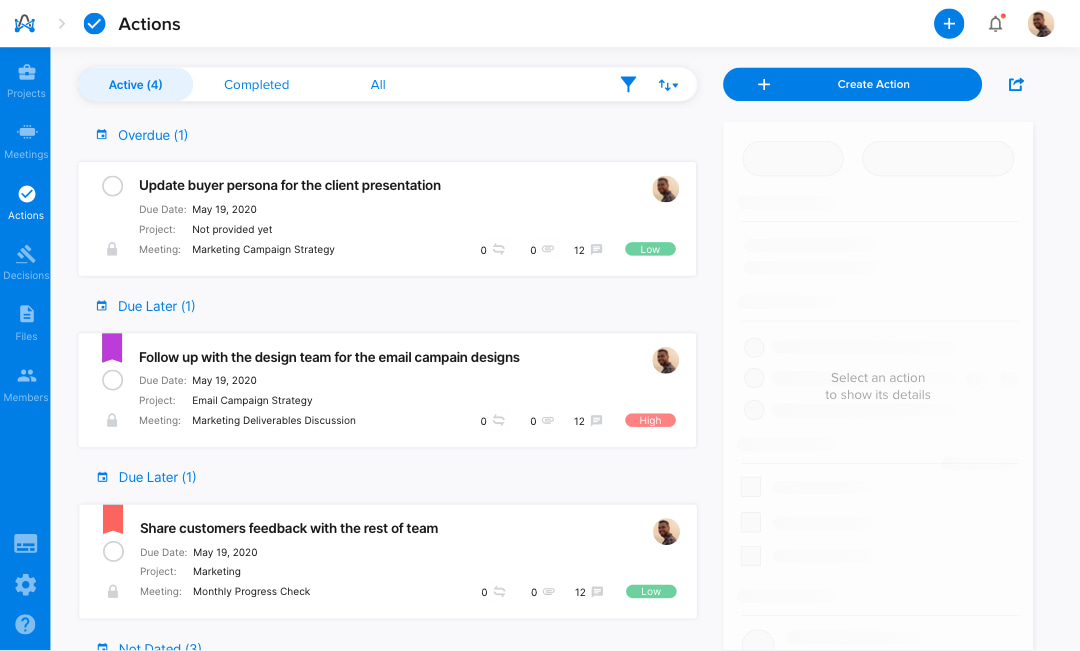 3. Create actions directly
You can also create a new action directly from anywhere on the app by clicking on the quick add (+) icon, and then choose "Action."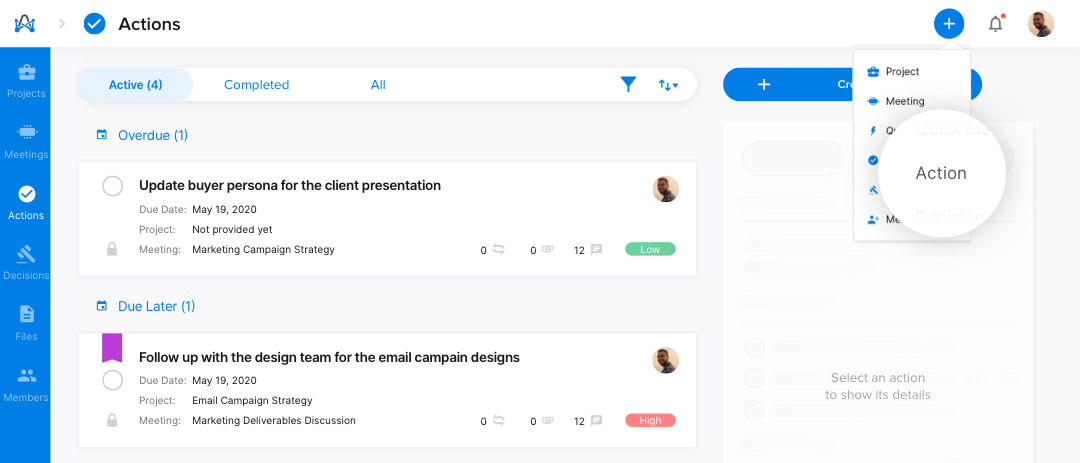 Start adding your action's title, assignee, due date, and severity (high, medium, or low) and choose which project this action belongs to.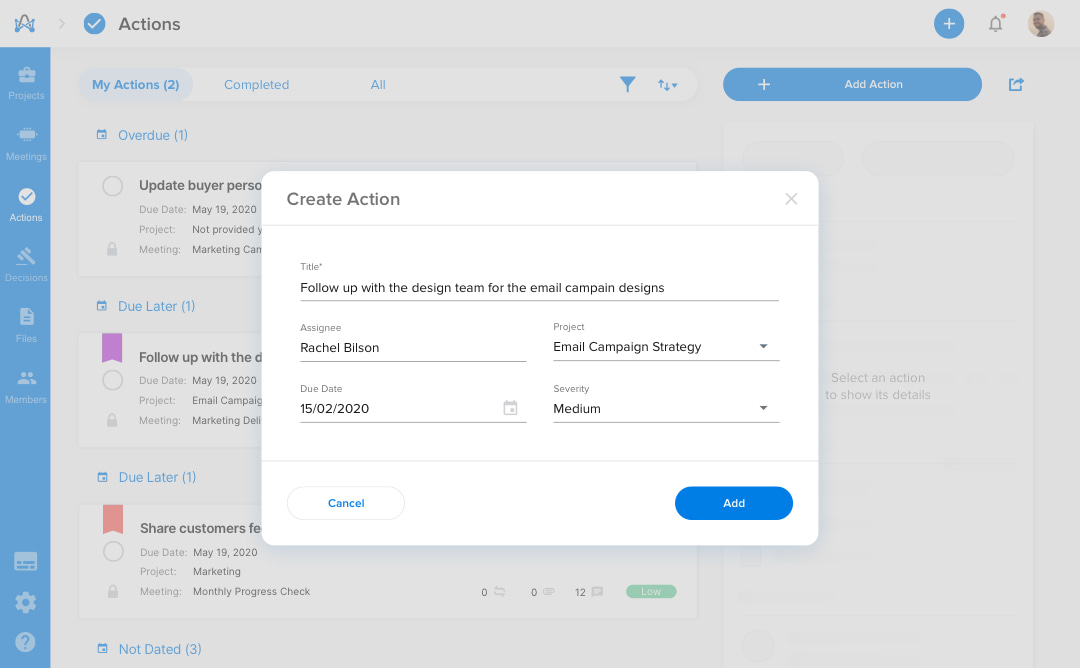 How to view and search for actions?
Head to the "Actions" subpage on the "Follow-ups" page. On the left side, you can view all actions that have been assigned to you during meetings.
Each action item has its assignee, severity, due date, related project, and meeting.
Your actions have different views:
Active. The view mode displays all actions assigned to you.
Completed. This view mode displays all actions assigned to you and marked as done.
All. This view mode displays all actions assigned to all team members who were invited to the same meeting.
Do it like a pro. Search any action by its title, project, meeting, due date, severity (high, medium, or low), assignee, creator, and status (active or completed).

Sort actions by creation, by due date, ascendingly, or descendingly.

How to edit actions?
Select an action item to display its details; then,
Add action notes and comments.
Break down your action into checklists.
Attach files relevant to this action either directly from your computer, or through connecting to other file-sharing tools as Google Drive or Dropbox.
Click "Complete" to mark your action as completed.
How to sync actions with other project management tools?
From the links icon found on the action's quick view, you can directly share and link your actions through connecting to other project management tools like Asana, Trello, and Jira Software.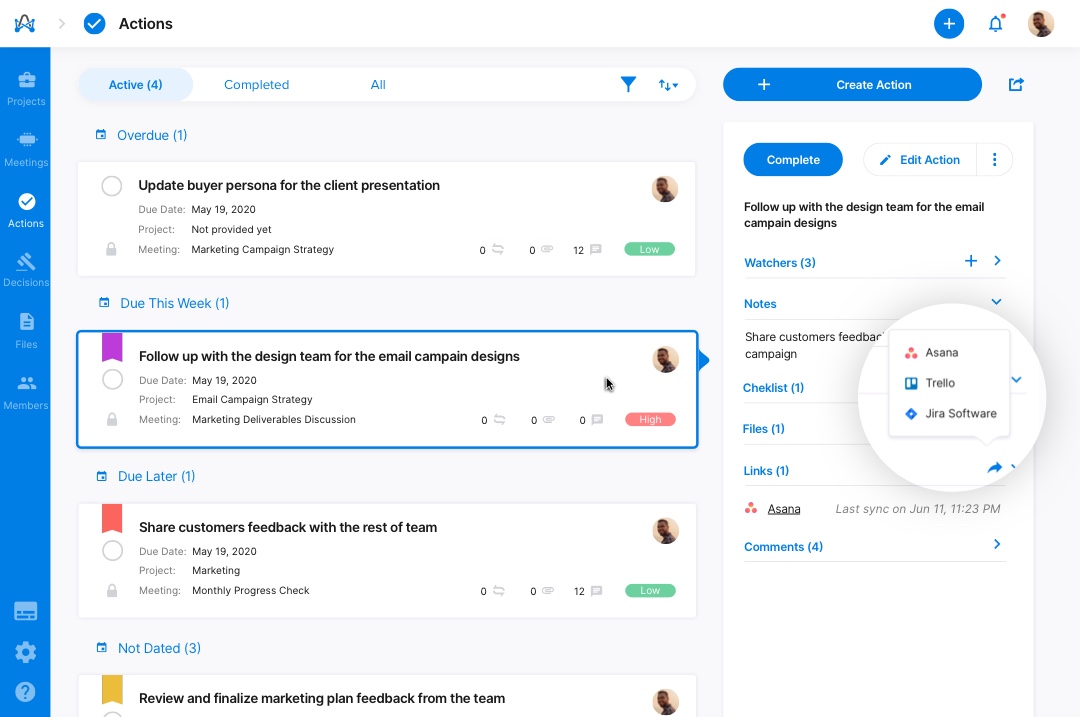 How to export actions?
You can always export your action items to an excel sheet through the "Export" icon on the top right of your actions page.