How to connect Office 365 integration?
Head to the "Settings" page.
Navigate to the "Apps" tab.
Locate the Office 365 card under the "scheduling" category.
Click "Connect."
You will then be requested by Office 365 to sign in and authorize adam.ai to have access to your Office 365 account. It will soon redirect back to the "Apps" tab in adam.ai where you will then be able to see that Office 365 is now successfully connected and your scheduled meetings are ready to be synced and viewed in your Office 365 calendar.
Note that you can view previous meetings within a two-month period.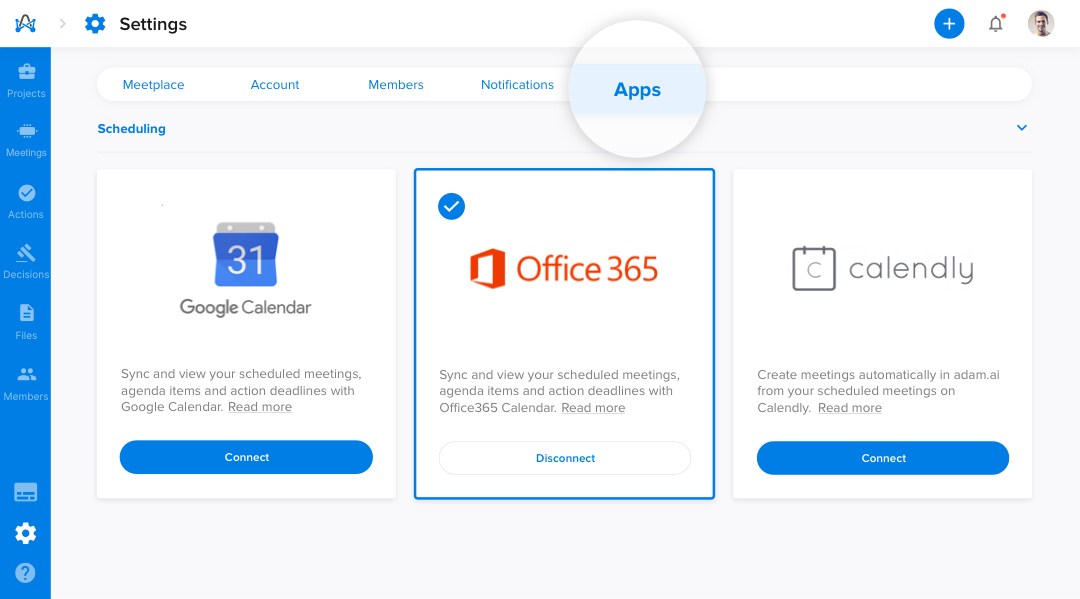 How to synchronize Google calendar with adam.ai?
After you successfully connect with Office 365, a modal will appear to confirm auto-syncing all meetings created from Office 365 with adam.ai.
Do it like a pro. If you are already connected, make sure to select the settings icon on top of the Office 365 card to enable the auto-sync to ensure that all your meetings are synced with Google Calendar.
You can sync only specific meetings created from your calendar, by adding Adam the assistant "adam@adam.ai" in the meeting invitation where your meeting will automatically be created on adam.ai and your calendar will be updated with the adam.ai meeting link.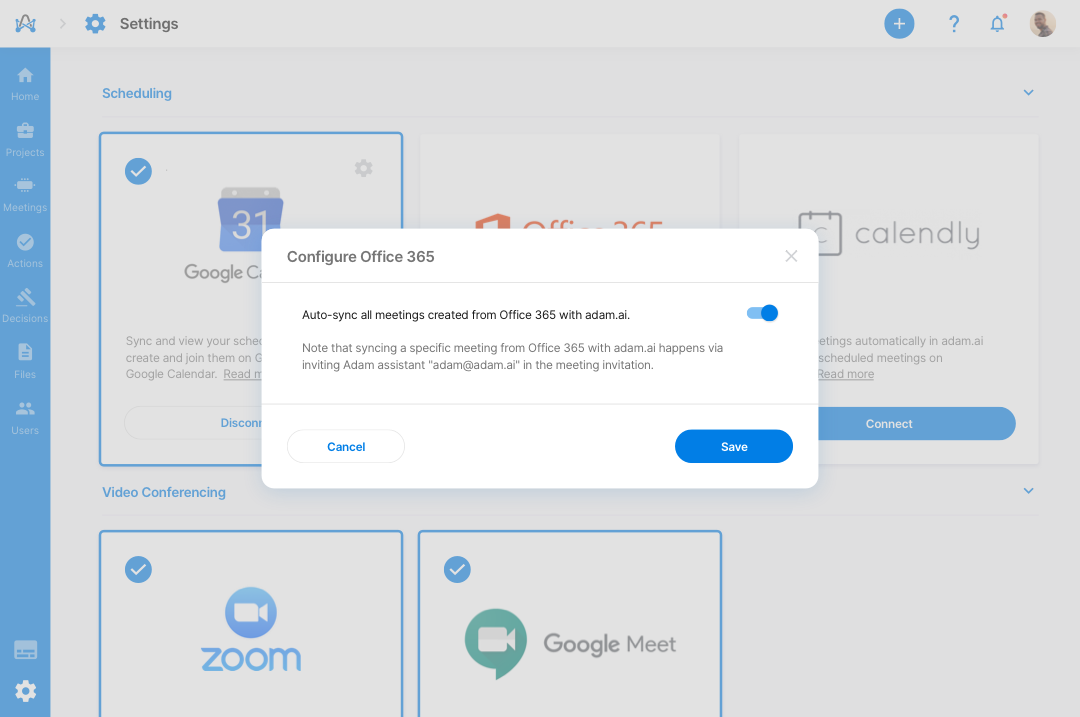 How to use Office 365 integration?
Once you create a new meeting and add the meeting attendees and/or guests, you can send them a meeting email invitation via Office 365.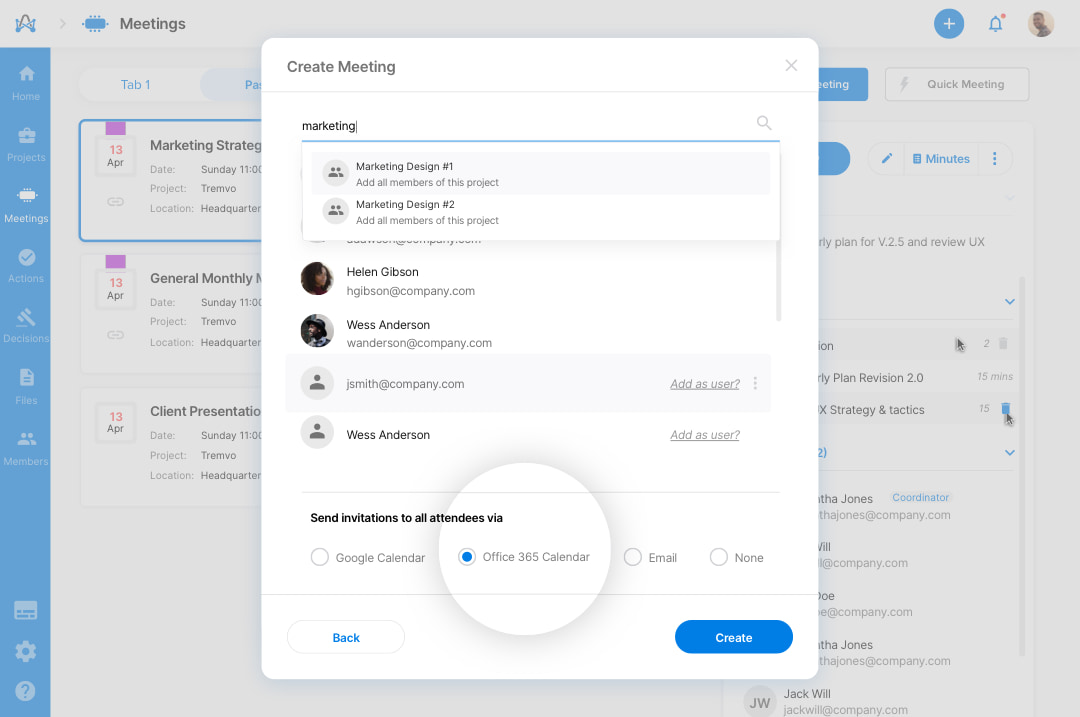 Head to your Office 365 Calendar, and you'll find it synced with adam.ai and all your meetings automatically created. You can now automatically sync and view all your upcoming meetings on Office 365.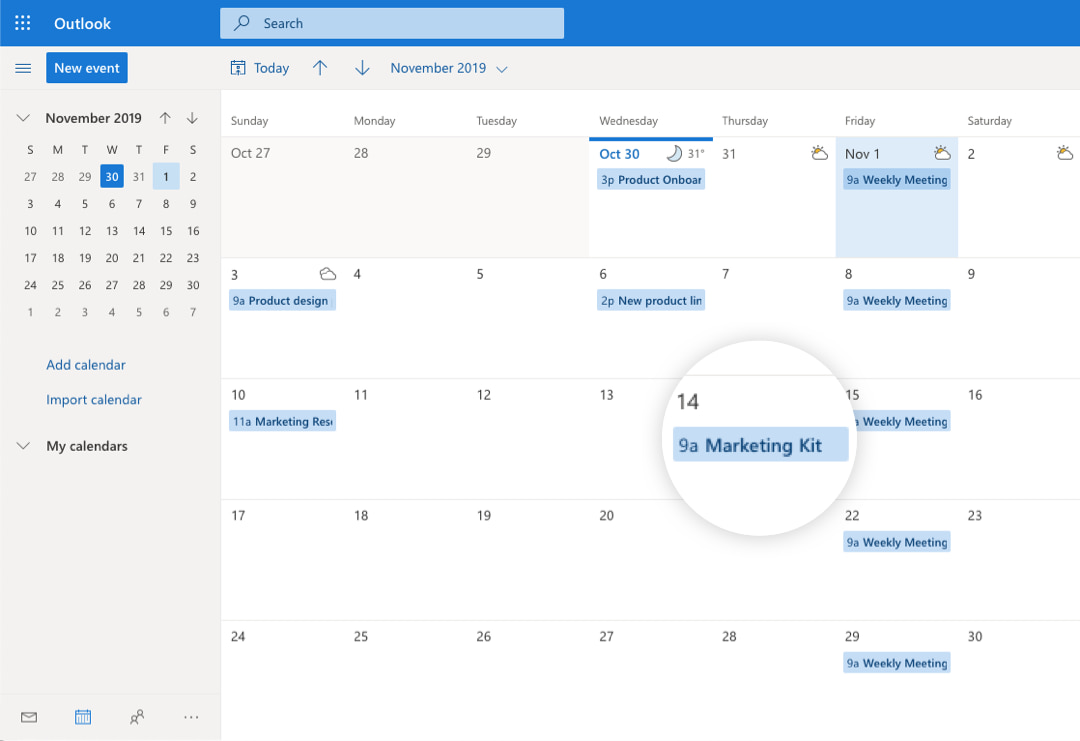 Office 365 is a two-way integration where all meetings scheduled on adam.ai will be synced to your Office 365 calendar and vice versa.
Outlook Plugin and adam.ai integration
Detailed steps to how to install adam.ai add-in directly from outlook can be found in this article.
Here's a quick video for your convenience
How to disconnect Office 365 integration?
Don't want Office 365 connected on adam.ai anymore?
Head to the "Settings" page.
Navigate to the "Apps" tab.
Locate the Office 365 card under the "scheduling" category.
Click "Disconnect."