The headquarters you always go back to!
A meetplace is like an online headquarters for a company, a group, or a team, where they can meet up to create and manage meetings.
So, how do you get one?
How to create a meetplace?
Create a new account from adam.ai sign up page.
Enter your name and email address. You can also sign up with your Google or Office 365 account.
Confirm your email.
Type in your meetplace URL (e.g., comapny.adam.ai), which you'll use to access your meetplace anytime.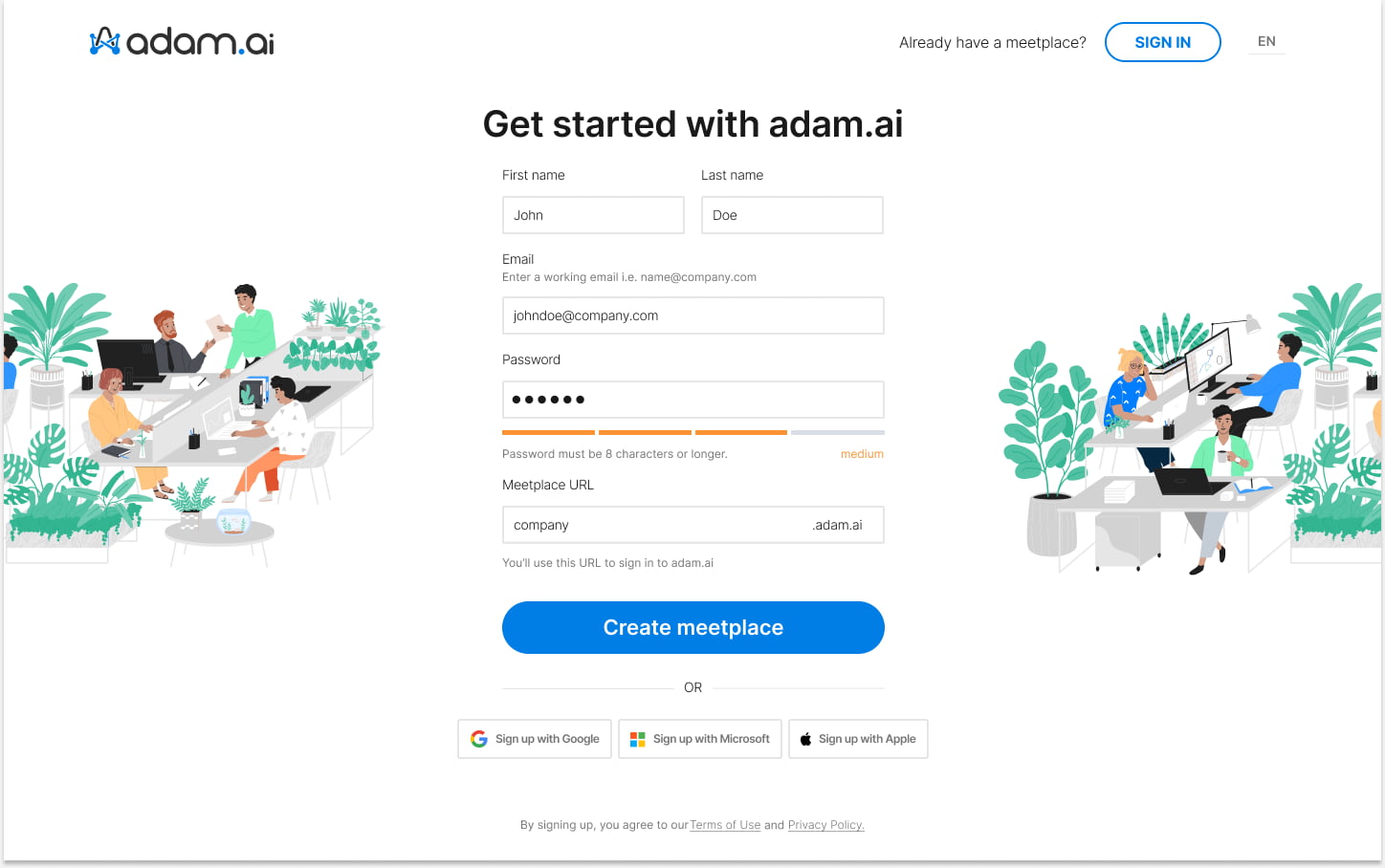 After creating your new account, check out the product tour to get to know adam.ai a bit more.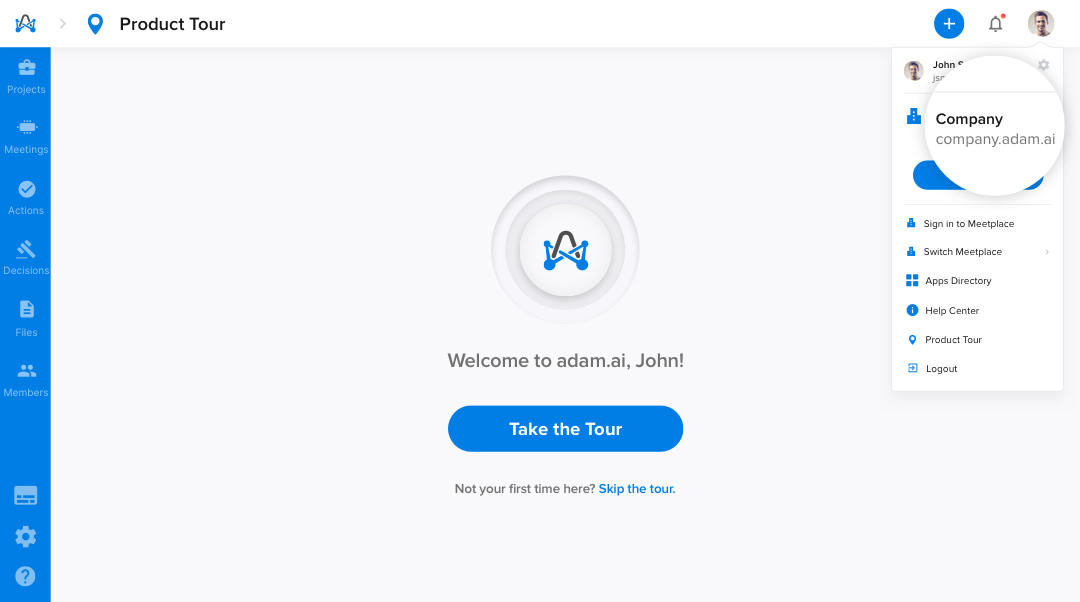 By default, your account is on the free plan, which gives you 5 users/meetplace. You can upgrade your plan from the "Billing" page.
What are the roles of a meetplace?
The owner. The owner is the only user with the authorization rights to manage the meetplace's settings and members. The meetplace's creator is by default its owner, but they can transfer ownership to any active member in the meetplace.
Admins. Besides the owner, a meetplace can have many admins who manage members. However, admins cannot manage each other, only the owner has the right to manage admins (deactivating them).
Members. They can create projects, schedule and manage meetings, take notes, upload files, and assign actions.
How to navigate between multiple meetplaces?
If you are a member of more than one meetplace, you can easily navigate between one meetplace to another as follows:
Sign in to another meetplace.
Select your profile from the top right side of the app; then select "Sign in to Meetplace."


You'll be directed to another page where you'll be requested to add your meetplace URL.
After you successfully sign in to the other meetplace, you can simply switch between one meetplace and another.
From the top right side of the app, select your profile and click "Switch Meetplace."

You can always find all your meetplaces that you're already signed in and easily switch between them.



How to distinguish between your multiple meetplaces?
If you are the owner of more than one meetplace, you can easily tell them apart visually by customizing their color scheme. As a meetplace owner, you can change the default setting of the meetplace colors to match your brand colors from meetplace settings, as below.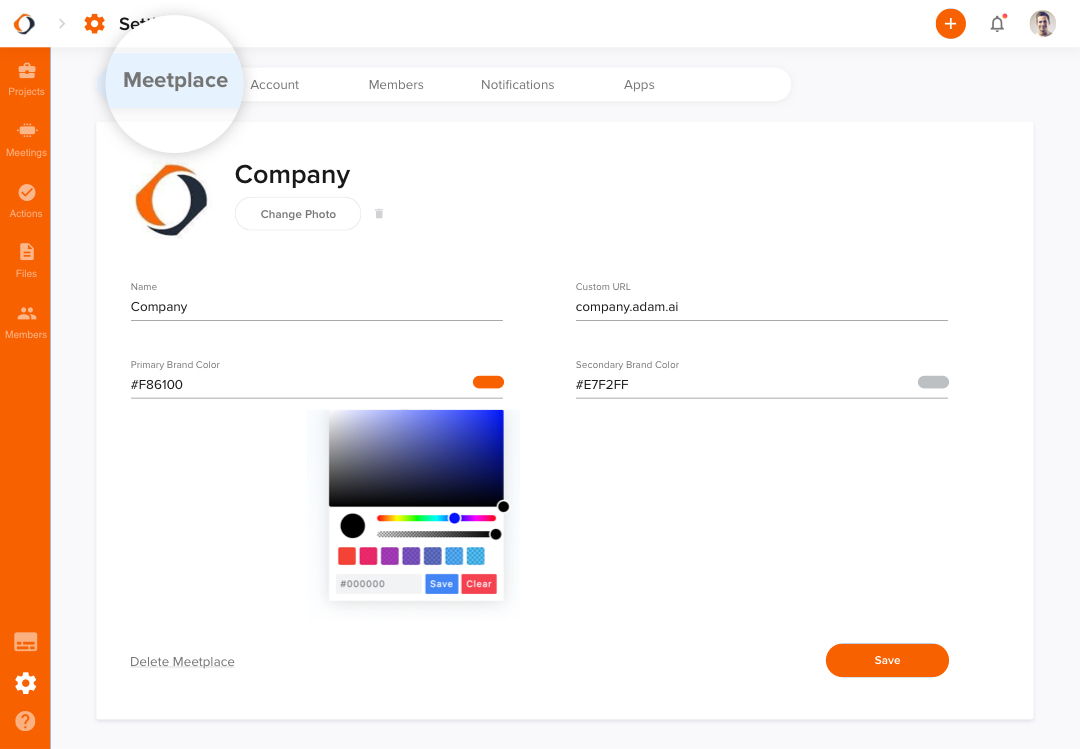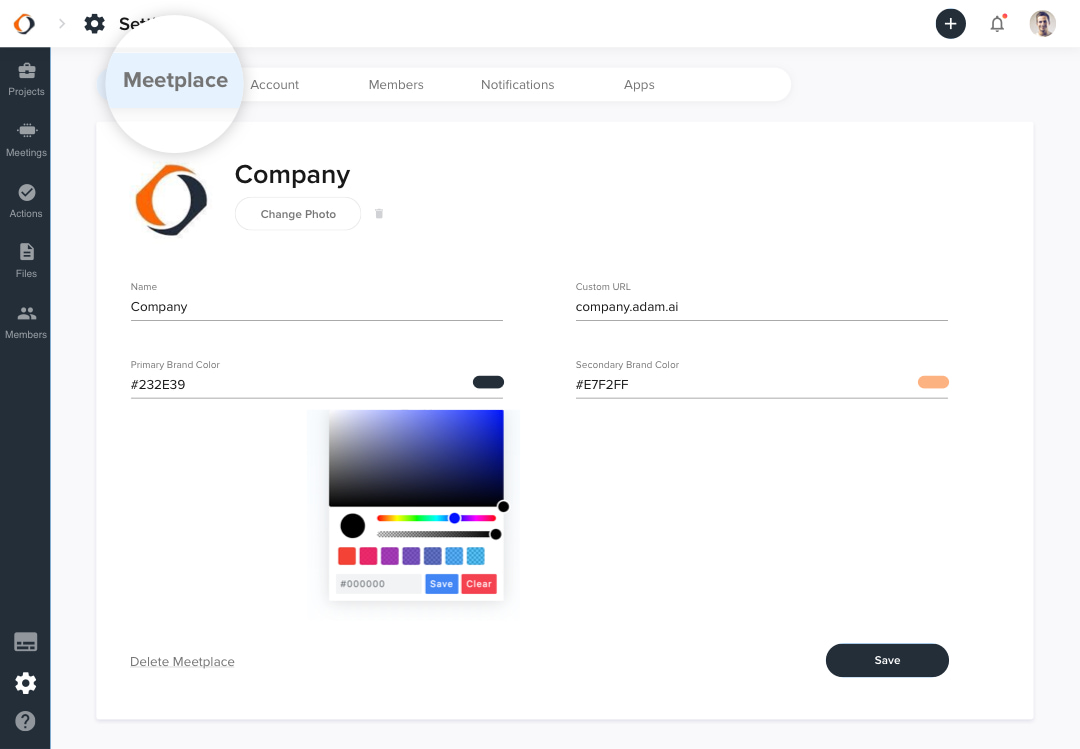 How to add team members to a meetplace?
The first thing you'd typically want to do is invite your team to your meetplace, so that you are able to create meetings.
Note that only the owner and admins of a meetplace can invite members.
From the "Settings" page, navigate to "Users" from the top menu.
Or
Go to the "Users" page.
Click on the add icon (+) to start adding new users.
Add users' email addresses. Invitations to join adam.ai will be sent automatically to them.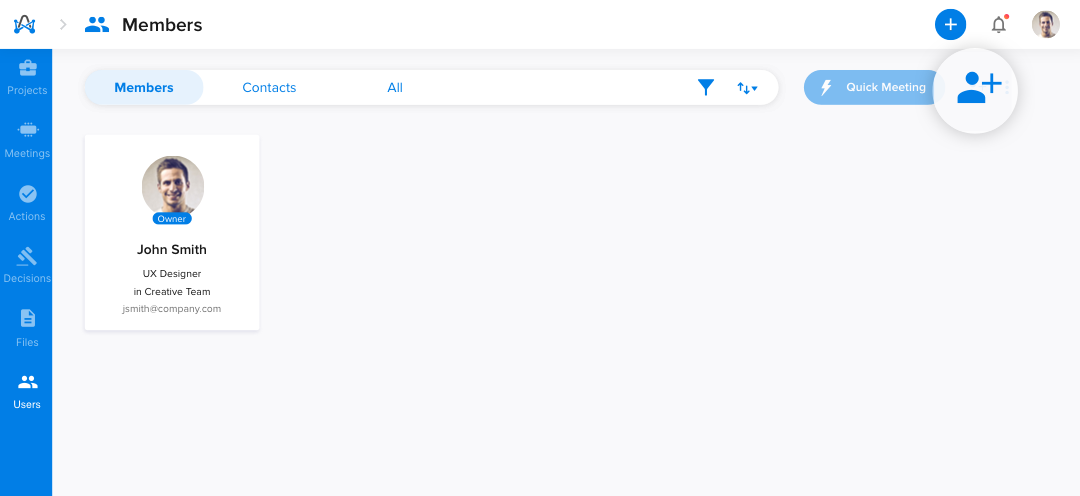 Do it like a pro! Upload an excel sheet to add users in bulk and save precious time.
To find out how many members are left to be added to your meetplace, you'll just need to check your subscription plan from the "Billing" page on the left.
You can see members you invited and their status (active, pending, or deactivated) from the members tab in settings.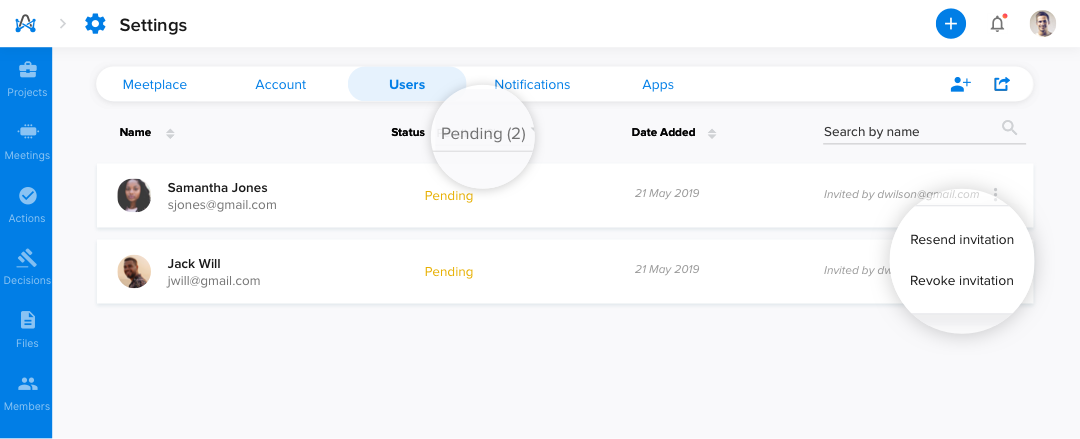 You may need to resend the invitation if a team member hasn't accepted their invitation within the time limit.
Invitations sent to members expire in 72 hours, so members need to confirm within this time limit, otherwise the meetplace owner will need to resend invitations.
How to cancel a member's invitation?
Head to "Settings."
From "Users," choose pending from "Status."
From the pending invitations, select "More Options" and "Revoke Invitation."
The invitation sent to that member will be canceled.
How to delete team members from a meetplace?
Head to "Settings."
Navigate to "Users" where you'll find all the active users.
From the kebab menu on the right in each user's card, select "Deactivate."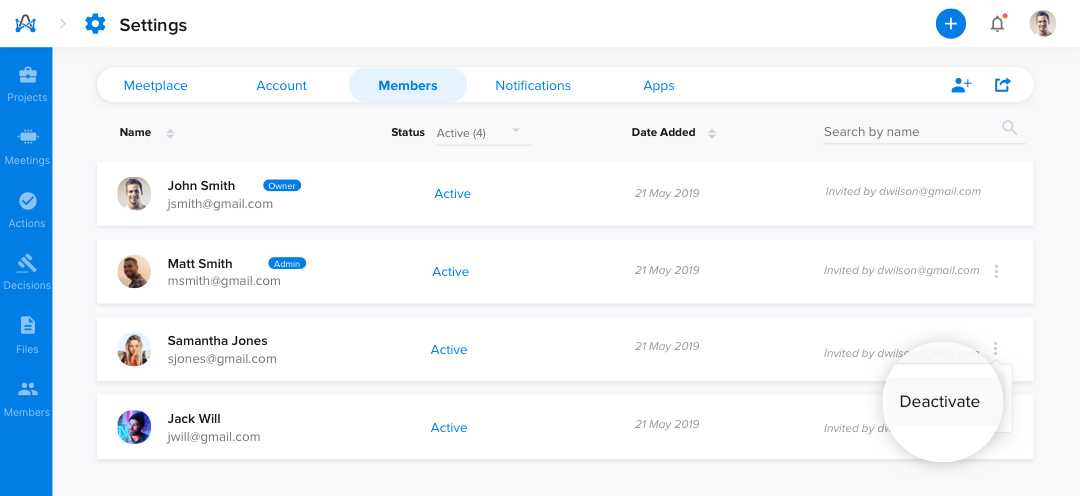 Deleting members on adam.ai can be done by deactivating them, you can't entirely delete members from adam.ai.
The reason why adam.ai doesn't adopt such concepts as deleting members entirely is because the meetings created are the organization's assets, not the individual members', and it can't afford to lose them.
How to reactivate a deactivated account?
Head to "Settings."
Navigate to "Users."
From the "Status" menu, filter with "Deactivated" to display all the deactivated invitations.
From the kebab menu on the right in each user's card, select "Reactivate."